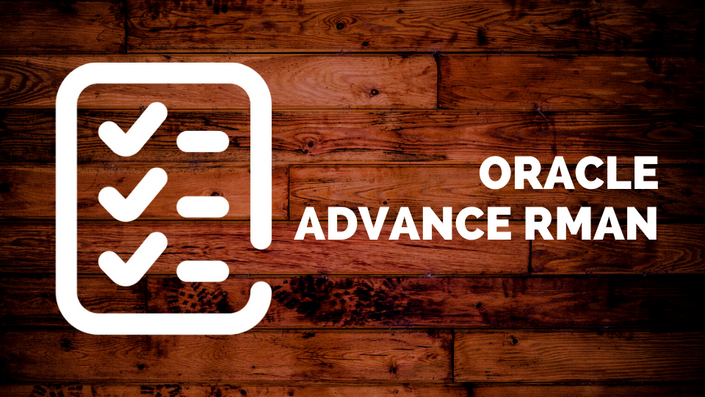 Oracle Advanced RMAN Backup & Recovery
Recover entire production database in the event of server crash using Oracle RMAN
Arun and his DBA Genesis crew are simply the best. He knows how to prepare you for all the challenges you will meet. Thanks to him I know so much about OS, I can configure and partition almost all types in Virtual box. He makes you do things that are not even part of the course as long as it will help you grow. The lectures are based on real time experience and I love the labs.
The response time to problems submitted is one of the shortest I have had. The only delay I get sometimes is due to time zones difference between US and India.
If you want to invest in becoming a DBA, I would strongly recommend you consider Arun (DBA Genesis)
Delbrando E-t
United States
Introducing You to Real-Time Complex Recovery Scenarios
27+ Lab Exercise
Extensive RMAN lab activities including downloadable scripts
Hot Database Cloning
Perform database cloning while it is up and running
Automate Backups
Learn different ways to automate production backups
Configure RMAN Catalog
Get our 8-steps checklist to configure RMAN catalog
Validate RMAN Backups
Practice RMAN commands to Validate backups
Repair Block Corruptions
Master different methods to detect and repair block corruptions
Course Description
As a database administrator, your primary duty is to create, implement and manage a backup and recovery strategy. The main purpose of a backup strategy is to protect the database against data loss and reconstruct the database after the data loss. Typically a database administrator job includes planning, configuring, scheduling and monitoring backups. Advanced backup & recovery course is for administrators who would like to master advanced database backup strategies and perform high level database recovery!

Master advanced database backup strategies and perform high level database recovery!
Learn to design, test and implement a robust backup and recovery strategy using the Oracle Recovery Manager (RMAN) tool. Upon completing this course, you will know how to evaluate your own backup and recovery requirements.

Create backup and recovery strategies for your database environment!

Advanced Backup and Recovery course teaches students how to design, test and implement a robust backup and recovery strategy using the Oracle Recovery Manager (RMAN) tool. With this course, you will learn to develop backup and recovery strategies for your database environment.

What you'll learn
| | |
| --- | --- |
| | Oracle user managed backup and recovery |
| | Database Point-in-Time Recovery |
| | Tablespace Point-in-Time Recovery |
| | RMAN recovery catalog configuration |
| | Reporting in RMAN |
| | RMAN scripting and database cloning |
| | Database full and incremental backup and recovery |
Course Requirements
| | |
| --- | --- |
| | Knowledge of Oracle Database Administration |
| | Familiar with Oracle Virtual Box |
| | Basic knowledge of Linux commands |
Target Audience
| | |
| --- | --- |
| | You work as a DBA but don't know how to perform advance database recovery |
| | Oracle DBA with 3 to 8 years of experience and want to become an RMAN expert |
| | Anyone looking to master RMAN incremental backups - L0 and L1 |
| | Any DBA who wants to automate database backup scheduling using RMAN scripting |
Meet Your Instructor!
Hi there! I'm Arun Kumar, owner and instructor at DBA Genesis. I created this platform to share my DBA knowledge with all of you. My vision is to simplify DBA learning in order to make you become more competent in your professional career.
I am an Oracle Certified Expert, Oracle RAC Certified Implementation Specialist and Oracle Certified Professional along with few more credible certifications under my hat.
Get your membership!
Move your DBA career forward without SHUTTING DOWN your database
Frequently Asked Questions
Where to start when it comes to RMAN?
Start by learning user managed backups. Off course no one uses it but it makes your RMAN understanding very easy. Then proceed with RMAN backups, recovery, cloning and other advance topics.
What if I don't learn RMAN?
For a DBA, it's very critical to design backup strategies for different database sizes. When it comes to production database crash, you must be an expert to recovery database quickly.
How do I download course material?
All the scripts / pdf files are attached below each video lecture. You get access to download all the scripts / pdf files inside the lectures.
Will you provide any remote lab for lab practice?
The course contains step by step instructions on how to setup your own lab for practice. So you can configure your own test lab
How do I ask questions or clear my doubts?
Each video lecture has a comment box below the video where you can directly write your questions and our team will answer within 8 hrs. You can also send email to
[email protected]
with your query and our team will respond within 24 hrs. In case your doubt needs special attention, we will setup an online meeting with the instructor to resolve the issue.
There are so many recovery scenarios, how do I learn all of them?
You need not learn all the recovery scenarios because you will not face all the scenarios in your job! You must get foundation correct, know how recovery works and then any crash would be recoverable.
Production system crashed, how do I recovery it fast?
Speed of recovery depends upon the type of backup strategy implemented. I have covered different types of recovery based on different backup types inside the course along with downloadable scripts!
"
I've been working as a DBA since 2009 and I was surprised to see how much I do not know about RMAN, especially the incremental backups and PITR recovery.
Bob Wang
Get access to all the backup & recovery scripts
"Had fun time playing around with your scripts on my test virtual machine."
Most intensive RMAN training
"So glad I found you Arun (via YouTube!) and best RMAN training course I have ever came across."