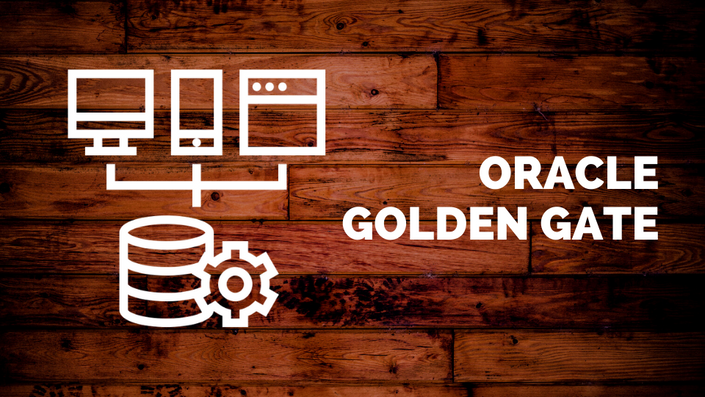 Oracle 12c Golden Gate Masterclass
Beginners to advance 12c Golden Gate masterclass with two real-time Hybrid replication projects
"First up off all, Arun is good tutor because he explained and present the topic very neat,clearly and make it easier.Secondly,Practicals with examples clears your all doubts.Those who are seeking knowledge in Oracle DBA, this is Encyclopedia."
Yogesh Tidke
Training Focused on Practical side of Oracle Golden Gate
Simple Replication
Learn to perform single table replication inside Oracle
Complex Replication
Master complex replication setup between multiple tables
Data Filtering
Filter data before applying it on the target table columns
DDL Replication
Practice various DDL replication available with Golden Gate
Schema Replication
Setup entire schema replication within multiple Oracle DBs
Hybrid Replication
Configure replication between Oracle, MySQL & SQL Server
Course Description
Today's market requires real-time data and with multiple databases in place, it become a business need to have data replication tool in place. Oracle Golden Gate is a high performance data replication software that provides real-time change data capture, data transformation and data delivery.

Oracle Golden Gate is the best replication technology available in the market today!
Apart from simple database replication, Oracle Golden gate also provides complex replication topologies like bi-directional replication. This enables you to make sure that critical databases are available 24/7 and the data is distributed across multiple databases to enable faster decision making.
Learn to setup replication between heterogeneous IT environments!
Oracle golden gate has proven to be the perfect replication choice even in extreme data volume conditions. Oracle golden gate architecture allows you to achieve low latency and high performance by solving some of the biggest high availability issues. Being a true heterogeneous player, Oracle Golden Gate is a must learn software for Oracle DBAs!
What you'll learn
| | |
| --- | --- |
| | Install and configure Oracle 12c Golden Gate for Oracle database replication |
| | Configure Golden Gate unidirectional and bidirectional replication |
| | Explain the difference between classic vs integrated capture |
| | Improve Golden Gate performance and troubleshoot common issues |
| | Configure high availability using Oracle Golden Gate |
| | Perform Oracle Golden Gate upgrade |
Course Requirements
| | |
| --- | --- |
| | Familiar with Oracle database |
| | Basic knowledge of Oracle database administration |
| | Basic knowledge of Linux and Virtual Box |
| | Laptop / system with minimum 16 GB RAM |
Target Audience
| | |
| --- | --- |
| | Database administrators and architects |
| | Application developer or administrators |
| | Project managers involved in data replication projects |
Course Curriculum
Introduction to Oracle Golden Gate
Available in days
days after you enroll
Oracle Golden Gate Architecture
Available in days
days after you enroll
Practice Lab Setup
Available in days
days after you enroll
Meet Your Instructor!
Hi there! I'm Arun Kumar, owner and instructor at DBA Genesis. I created this platform to share my DBA knowledge with all of you. My vision is to simplify DBA learning in order to make you become more competent in your professional career.
I am an Oracle Certified Expert, Oracle RAC Certified Implementation Specialist and Oracle Certified Professional along with few more credible certifications under my hat.
Get your membership!
Move your DBA career forward without SHUTTING DOWN your database
Frequently Asked Questions
How do I practice lab exercise?
The trainer will share virtual machine export with every student. So, you configure your machines on your system while trainer users same machines in online training. You can always practice along with the trainer on your own virtual machine setup.
What Are The Prerequisites To Learn Oracle GoldenGate?
Familiarity with Oracle Database and at least 1 year of Oracle DBA experience.
Which OGG version is taught in the course?
You will be learning OGG 12c version.
Course Finished Certificate?
After finish, the course we provide Oracle Golden Gate course finished certificate of DBA Genesis
"
Excellent course contents and Support, they quick response and give proper solution in no time . I really appreciate these people.
Andrew
Learn to integrate data across heterogeneous systems!
"The session was very informative. The instructor is highly knowledgeable. His explanation can reach to all who are highly experienced people in their respective domains.Good Session and basic concepts were was very clear. The session at right speed for newbie like me." Nathan
Golden Gate has ability to move large volume of data efficiently!
"Its really been great set of classes with DBA Genesis!. I consider myself lucky to have discovered and be a part of DBA Genesis!. I loved the way Instructor took out extra time for every question made &explained in depth." Thomas