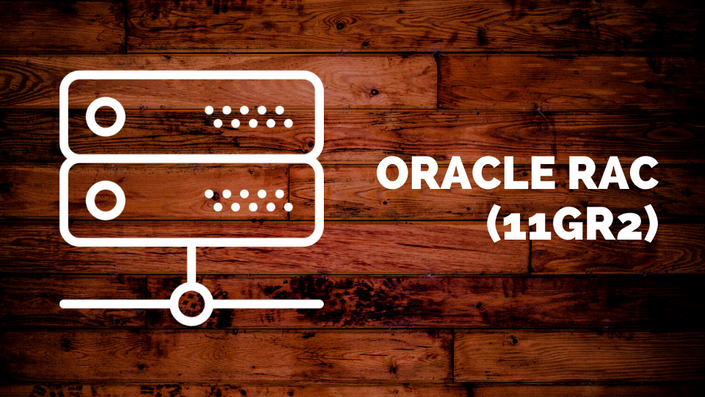 Oracle 11gR2 RAC for Beginners
Learn to setup 2 node RAC on virtual box with this course
Master 2-Node RAC Setup With This Course
Oracle High Availability
Know the high availability features provided by Oracle
Oracle Max Availability
Learn how to implement Oracle Max Availability Architecture
Oracle Clusterware
Perform Grids software download and install on 2-Node
Oracle ASM Setup
Create OS disk partitions to configure ASM diskgroups
Configure 2 Node RAC
Setup 2-Node RAC on OEL 6.5 using Oracle VirtualBox
Basic RAC Administration
Download scripts to administer Grid & RAC databases
I took the RAC-Beginners, Advanced RMAN, DB UPGRADE packages from you. Its always been a pleasure to learn new concepts from you.
DBA Genesis is a platform which simplifies the topics in such a way that learning even difficult concepts becomes a cake walk. It's definitely a value for money organisation. I will look forward to be a regular student of this organisation.
Thanks Arun for your help and support. You really Proved Learning Oracle is not that difficult. Kudos! to your teaching style :)
Shubham Gupta
Course Description
Oracle RAC allows multiple computers to run Oracle RDBMS software simultaneously while accessing a single database, thus providing clustering. The main aim of Oracle RAC online course is to implement a clustered database to provide performance, scalability and resilience. It's a clustered version of Oracle Database based on a comprehensive high availability stack
Learn to deploy 2 node RAC using Oracle VirtualBox with this course!
The Oracle 11gR2 Real Application Clusters Administration course describes the Oracle RAC architecture, hands on experience and Oracle Real Application Clusters multi node installations. This course is for people who have prior knowledge on Oracle database administration and covers knowledge on topics like Oracle RAC Cluster, Oracle AMS, Oracle RAC administration, Oracle RAC Installation, Oracle RAC on VirtualBox and many more.
Administer ORACLE HOME and ORACLE GRID simultaneously along with ASM!
With this course, you will be make yourself familiar with Oracle clusterware technology and also oracle ASM administration. Oracle ASM binaries are shipped with Oracle GRID and we will setup 2 node RAC database on shared ASM storage.
What you'll learn
| | |
| --- | --- |
| | Master the different types of clusters in market |
| | Practice Clusterware and ASM administration |
| | Download and install Oracle grid software on Linux |
| | Create RAC database on Oracle grid clusterware software |
| | Master two node RAC installation |
| | Configure Shared storage for two node RAC |
| | Navigate ASM with sqlplus, asmcmd and asmca utilities |
| | Setup public and private network |
Course Requirements
| | |
| --- | --- |
| | Basic knowledge of Database Administration |
| | Windows / Mac / Linux PC, Minimum 16 GB RAM and 100 GB HDD Storage |
| | Virtualization software VirtualBox – To create two machines |
Target audience
| | |
| --- | --- |
| | DBAs who would like to learn clustered Oracle Database |
| | Its highly demanding technology in the current market |
| | Anyone who would like administer Oracle clusterware infrastructure |
Course Curriculum
Before You Start Oracle RAC
Available in days
days after you enroll
Let's Look at Oracle RAC
Available in days
days after you enroll
Oracle High Availability and Scalability
Available in days
days after you enroll
Meet Your Instructor!
Hi there! I'm Arun Kumar, owner and instructor at DBA Genesis. I created this platform to share my DBA knowledge with all of you. My vision is to simplify DBA learning in order to make you become more competent in your professional career.
I am an Oracle Certified Expert, Oracle RAC Certified Implementation Specialist and Oracle Certified Professional along with few more credible certifications under my hat.
Get your membership!
Move your DBA career forward without SHUTTING DOWN your database
Frequently Asked Questions
What if I have quries after completion of the class?
You can contact our DBA Genesis support team, or you can send an email to
[email protected]
for your queries.
Is the Coures material is accessible after completion of the course
Yes, you can access the course material after completing course because you have life time access to the course.
Which version of Oracle RAC is taught in the course?
Oracle 11gR2 version.
"
DBA Genesis has been an unique and fulfilling experience. The course contents are up-to-date and the instructors are industry trained and extremely hard working. DBA Genesis redefines the way online training is conducted by making it as futuristic as possible. Thank you DBA Genesis!
Madison
Create a powerful environment with Oracle Grid Software!
"My learning journey was excellent at DBA Genesis! The classes were detailed and in - depth. Our trainer was amazing as he explained all the concepts very well." Camila
Learn to run multiple Oracle Instances while accessing a single database!
"The course was very well structured. The sessions were in good pace and the instructor was knowledgeable too. Overall, A very good learning experience. " Mia