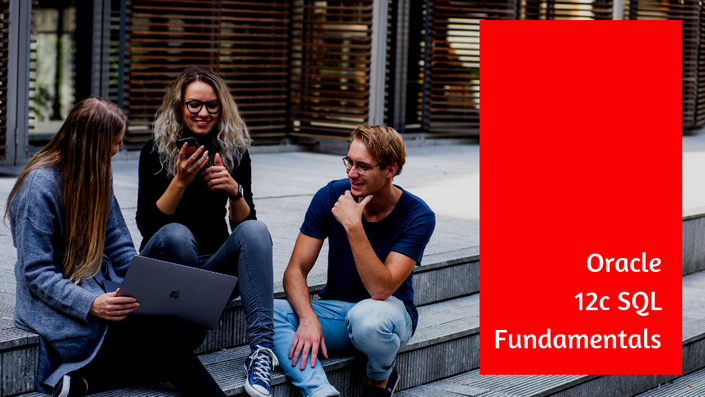 Oracle 12c SQL Fundamentals
Become an Oracle 12c SQL Certified Expert and clear 1Z0-071 certification exam
" Hi Arun, I just wanted to thank-you. I recently got my 1Z0-071 certification after studying SQL course from DBA genesis. This was kind of my third attempt. I started studying for this certification before twice but didn't got the confidence to book the exam but after going through your course not only I got the confidence but cleared the exam as well. Thanks for sharing this knowledge. keep up the good work. Waiting for more exciting courses. "
Vishal Sharma
SQL Expert Certification Preparation Course
Learn Data Normalization
Learn to decompose tables to eliminate data redundancy
SQL Commands Types
You are going to learn five types of SQL commands
SQL Functions
You will master all the built-in SQL functions inside Oracle
Oracle SQL Joins
Play with different types of joins by joining multiple tables
1z0-071 Exam Dumps
Latest & Updated Exam Questions for you to clear exam fast
SQL Interview Question
Most common and useful SQL interview questions
A complete courses that will not only make you an Oracle 12c SQL expert but also prepares you for Oracle 1Z0-071 certification exam in just two weeks!
100% complete course for you to start from scratch and become an SQL expert
Some of the course highlights that makes this as one of the best course:
| | |
| --- | --- |
| | Every Oracle 1Z0-071 certification topic covered |
| | Assignments at the end of every section to help you learn fast |
| | Multiple choice quiz to prepare you for certification |
| | Sample certification exam questions at the end of the course |
The course lessons cover every single topic that is part of Oracle SQL certification exam. This will help you to master each topic inside one single course. With every section having assignments will make you implement your learning and improve your analytical thinking.
Become an Oracle SQL expert even if you know nothing about SQL with this expert course
At the end of the course, I have included sample certification dumps for your reference. This will help you test yourself even before appearing for the actual certification. There are many quizzes inside the course that will help you test your learning at every stage.
A course that teaches you with hands on practice and makes you confident in clearing the 1Z0-071 certification
The course is create by keeping below things in mind:
| | |
| --- | --- |
| | Turn complete freshers into SQL experts |
| | DBA professionals who want's to clear 1Z0-071 certification exam |
| | Oracle DBAs who want's to refresh SQL knowledge |
| | Any professional who is preparing for OCA certification |
Meet Your Instructor!
Hi there! I'm Arun Kumar, owner and instructor at DBA Genesis. I created this platform to share my DBA knowledge with all of you. My vision is to simplify DBA learning in order to make you become more competent in your professional career.
I am an Oracle Certified Expert, Oracle RAC Certified Implementation Specialist and Oracle Certified Professional along with few more credible certifications under my hat.
Frequently Asked Questions
How can I practice?
If you are an experienced Oracle DBA then you can configure a Linux Virtual Machine, Install Oracle database and practice. If you are a fresher then we suggest you to purchase your own SQL lab that you can connect 24/7 remotely. Write to
[email protected]
for more details on SQL lab.
Will I get certificate of completion?
Yes, every student who completes all the lectures inside the course will get the course completion certificate. You will be able to download the course completion certificate as soft copy in PDF format.
How can I prepare for interview and apply for jobs?
At the end of the course we have included latest Oracle SQL interview question and answers. This will help you prepare for SQL interviews.
Will I be able to clear Oracle SQL certification exam?
Yes, this course has been created based on 1Z0-071 certification exam curriculum. We have also included real-time SQL scenarios that you might face in your job.
I have no programming knowledge, can I enroll into this course?
This course is design by keeping beginners in mind. Absolutely no programming experience is required to master this course.
How much time will it take to complete this course?
This course is video based course and generally students, on average, take 25-30 days to complete the course.
"
It was a good experience with DBA Genesis, I checked with other online trainings, found DBA Genesis is better. Overall course content & support were good. It's a life time access program. Study material & case studies are good which helps in gaining good in depth knowledge
Jaxon
Making sure you become an Oracle expert!
"The support team doing a awesome work.Because they always make sure someone request attend on time.The course contents excellent outline and break down even for non IT background.I enjoyed the class." Lincoln
Providing you all the necessary tools to master SQL!
"DBA Genesis is a good online platform to learn any new technologies and tools. I felt like DBA Genesis follows some industry standards also the Instructors are industry standard experts. Finally don't learn it Master it from DBA Genesis." Christopher
Get lifetime access to pre-recorded videos and learn at your own pace!
Lifetime Access
Certificate of Completion
Download Course Material
Structure your learning and get a certificate to prove it
Lifetime Access
You get lifetime access to the course videos and material
Get 24/7 Support
Get 24/7 support from our private Facebook group
Certification
Complete your final project & DBA Genesis will certify you